I'm going to tell you a bit of story of my 1st assignment.
For those who don't know what's the difference between homework and assignment,
homework is basically what we call Tutorial in university whereas assignment, is a whole lot different thing,
you have to do some online research about the topic given, then rewrite it in your OWN words with attached references. So it's like writing a very looooooong essay about your findings.
Ok, now let's start from the grouping.
Our Sociology lecturer asked us to form a group of 5, our topic is Domestic Violence.
A retake girl sitting beside us named V wanted to join us,
(retake = fail the subject and take it for another semester)
since we (me and 2 friends) needed 2 more members, so we had no reason to say No to her.
(Another girl joined us another week)
During our 1st meeting, V was being very concerned about the assignment given and she had already find certain information in the text book. We were impressed by her efficiency.
Typical me being the leader of the group assigned them to do different subtopic of the assignment.
As our presentation date is getting closer, I will monitor them every now and then to make sure they are progressing.
However......things didn't went out as smooth as we thought.
V started to disappear and wouldn't join our meeting until one extent that she's completely vanished.
Yup, we couldn't contact her at all. No reply in fb message or handphone. Just vanished like Harry Potter.
The presentation day is like a few days away, vanishing at this time is making all of us freaked out.
Then FINALLY, she replied in fb saying that her house was burglarized and her laptop and handphone were stolen.
Oh, no wonder she's completely "vanished".
All of us sympathized her and thought of how to help her in doing the essay and presentation and most importantly keep in contact since we are in different semester and different class.
The next day in school, we happened to bump into her and her group of friends.
Us: "So how do we contact you since your phone is gone?"
Her friends : "Ain't that your hand phone that you're holding now?"
Her : "I will explain it to you later."
I wouldn't have realized it if her friends didn't mention about the big smartphone she's holding in her hand.
Me: Ok, nevermind. So what about your essay? Are you going to cyber to do it?What time you'll be online?
Her friends: Aren't you online 24 hours?
Me and other friends exchange gaze indicating that we understood the whole situation now.
She

LIED

to us about the theft!!!!!!
I was soooooooo agitated and frustrated to know about the truth, thanks to her "honest" friends.
As a leader, do you know how panicked am I when you said your belongings were stolen?!
I even prayed for you that the Lord will help you find ways to do your work.!!!
And you haven't showed us a bit of your essay??!!!!!
And the presentation day is very NEAR???!!!!
If you don't know how to do, ask lah.
Don't want to do, tell lah.
No Need lie like that, until exposed by your own friends lagi.
Haiz.......really no eye see.
As what we expected, she did really bad during presentation. Her excuse was, she will be hard to breathe when she got panicked.
Of course panicked lah, while we were all preparing and practicing, you were sleeping there and told us not to be so worry about it.
Ok, presentation is over. Now the essay.
She gave me her essay.
Guess what, she
copied and pasted
it from the website that I gave her, she did cut some part, hence making the sentence look weird and unconnected.
I knew because I have read through all of it.
So I told her in a very polite manner to write it in her OWN words, many times coz we need to Turnitin (an online plagiarism checking programme, our limit is not more than 20%)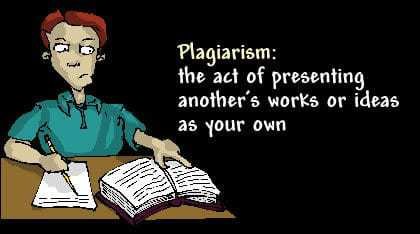 If we turnitin our essay including hers, I'm sure it will be over the limit.
I've been giving her many chances, but she wouldn't listen, the other group members agreed that I should tell the lecturer about it.
Guess what, her essay is 39% plagiarized!!!
I told the lecturer about it, but he is very kind, he didn't want to fail any students, so he gave us, especially her another chance to change it.
Another group member named S, also same like V, not very good in English, but at least she put effort to write something out with her OWN words, she will consult me and ask me to amend her essay.
Not by lying and procrastinating and plagiarizing!
I heard from other group, V's retake friends also like that, don't want to cooperate to do work.
Somehow the bad side of me wanted her to retake again in her 3rd sem. But I know that it's not right because I'm a christian.
This mental straining bitter experience have told me that
NEVER EVER
be in the same group with a
RETAKE
student.